Golden Temple, the pride and soul of the Sikhs has been a centre of attraction among Indians as well as foreign travellers since ages. The golden body, mystic pond, mouth-watering halwa (desert) and overall myths make this religious site a delight of religious populace. Believers irrespective of their religion, caste and gender throng Amritsar in search of eternal bliss and get amazed seeing the humble nature and deep rooted beliefs of the Sikhs towards their religion. The city of Amritsar also encloses Akal Takht, Sikh Parliament, Durgiyana Temple and a number of other eye-catching tourist attractions which every enthusiastic traveller would love to explore along with visiting Golden Temple. However, tourist places like Harike Wetland, Bathinda Fort or Pul Kajari are located within close proximity of Amritsar and give the travellers enough of options to choose from for a day trip from Golden Temple. So, let us tell you in details what all you can see while spending your vacation in Amritsar.
Located within a distance of one kilometre from the Golden Temple, Jallianwala Bagh is the famous public ground where the heinous act of public massacre was done by the British Army. The incident took place on 13th April, 1919 which was the Punjabi New Year Day. It is on this auspicious day that British occupying forces brutally opened fire on a peaceful mass and as a result around 379 people were left dead and around 1100 people wounded. In 1951 a memorial was established on this ground to commemorate the massacre. Today a huge memorial stone is found in Jallianwala Bagh where every traveller in Punjab pays his/herhomage.
Wagah Border is one of the must visit places of tourist interest around Golden Temple in Amritsar and has established itself as a firm favourite among the Indian tourists. It is the only road border crossing between India and Pakistan and located at a distance of around 30 km from the Golden Temple. The ceremony of Beating Retreat and Change of Guard make this place highly valued. The soldiers of both the countries demonstrate their heartfelt enthusiasm for own country and the nationalistic feel reaches its peak among the viewers present there in the afternoon. This entertainment ceremony involves display of intense patriotic feel of the armies for their respective states and people assemble here every day to witness this exciting activity in either side of the border.
A Significant Hindu Temple in Amritsar, Durgiana is around one and half kilometre from the Golden Temple and looks like a replica of the same. Dedicated to Goddess Durga, the temple was built in 1908 by Harsai Mal Kapoor. The temple complex encloses the seats of Lord Hanuman, Mata Shitla, along with Lakshmi Narain.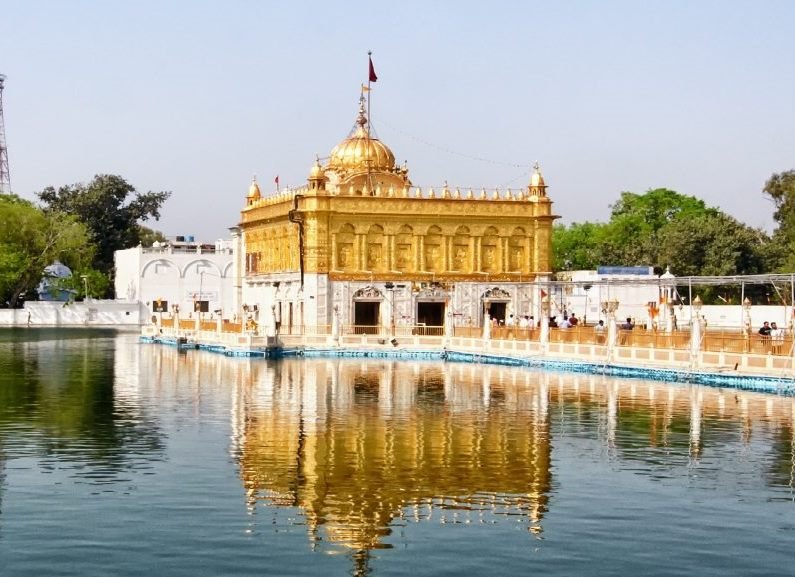 MAHARAJA RANJIT SINGH MUSEUM
Dedicated to Maharaja Ranjit Singh, 'the Lion of Punjab', who freed a major part of Punjab from the shackles of the Mughals, the Maharaja Ranjit Singh Museum is located in Lawrence Road, Company Bagh of Amritsar. The museum displays the chivalric activities of the Maharaja along with artefacts associated with the greatest battles he fought with his enemies. The light and sound show creates the feel of a real war situation with the booming sound-effects taking you to the past.
Located at Amritsar-Chogawan Road, the Ram Tirath Temple is a must see Hindu religious site in Amritsar known for its spiritual and religious significance. Associated with many undeniable myths of the Ramayana, this hallowed spot is claimed to be the site where Lord Rama's sons Lav and Kush were born. It is also said that sage Valmiki, the writer of the Ramayana started writing the great Epic here.
Sadda Pind is located in Amritsar which is easily accessible by rail and air routes from anywhere in India. It can be easily reached by road as it is located conveniently behind Guru Nanak Dev University on the Main Bypass road Though Sadda Pind is a showcase of Punjab, there is nothing like normal museum about it. It's punjabi village culture living museum. Each attraction here has been carefully chosen and planned keeping in mind your age and interests. Sadda Pind is a great place to visit with your family, friends or even colleagues. You can spend a day here, so even stay with us for a day or two.